Lights of River Oaks Display Information
Location
The display is located in the town of Bainbridge, Georgia at 195 River Oaks Drive which is located 2.5 miles South of the Spring Creek Road exit on the US 27/US 84 Bypass.
Use the Google map above, to enter your starting position get directions from your starting point.
Come and take a look, we promise you will not be disappointed.
Display Dates & Times
The official lighting of the display begins at dusk Thanksgiving Day and runs daily until January 5.
The display runs from 5:45p.m. to 10:00 p.m. on Sunday through Thursday
and on Friday and Saturday from 5:45 p.m. to 11:00 p.m.
There may be times when the display does not run or sections may be out due to inclement weather.
If we get rain, the display will not be fully functional due to the wet conditions.
Please check our Facebook page for the most up to date information on weather conditions.
Christmas Music
Over the years, we have added more Christmas music to the display; for your comfort, there is a customized song broadcast over your radio on 103.7 FM .
In addition, there is music that the lights "dance" to playing from strategically placed speakers throughout the yard.
Display Etiquette
We want to ensure that everyone who comes to see the display can do so in a safe way. We ask that you please follow these rules when driving or walking by the display.
Although it is tempting, please do not stay at the stop sign and look at our lights. Our subdivision has only one way in, and you will be blocking it. If you want to stop, please turn onto our road and park along the side.
If you want to park, please do not park in front of any driveway. Our neighbors may need to get out and we want to make sure they are not blocked in.
Parking is best done near the end of our display (at the dancing trees) as this does not block anyone's view of the main house.
Please do not turn around in our neighbor's driveway, our street has a turn around at the end and you will be able to circle around and get back to the main road. Enjoy our neighbor's lights.
We welcome you to walk around to view our display. You can walk up our driveway but please stop at the barrier of lights. Please do not ring the doorbell. We have dogs that will go crazy.
As you walk around, please be mindful of our "fence" of lights and stay behind this. There are many cords, wires, and trip hazards throughout the yard that make it dangerous to walk around in the dark.
If you just HAVE to talk to us, we try to be out on weekend nights and do come out some during the week. Feel free to post a message on our Facebook page.
If you like our lights and wish to make a donation please make a donation to Southern Paws Animal Sanctuary in care of Woodams Christmas Lights.
Christmas 2013

Christmas 2011

See 2010 Christmas Video
EmailSanta: Send your Christmas Wish to Santa and he'll reply faster than red-nosed reindeer fly!
Follow us on Facebook
Follow @gwoodams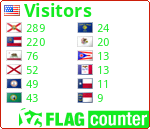 Return to gwoodams.com